Join us this summer for virtual camps that provide engagement, creativity, and entertainment!
We are pleased to announce that we will offer virtual camps this year including the beloved "Bow and Arrow" Camp along with new ones like "Pop-Up Bookmaking" Camp.  We are also offering virtual camps that are as short as 45 minutes, or ones that enchant your child for the day ("Leather Making/Bow and Arrow" Camp).
We hope that you enjoy choosing the camp(s) that will work best for your child as much as we have enjoyed thinking about all of the fun that our summer camps will offer them!
Please do not hesitate to contact Christen Leonard, cleonard@washingtonwaldorf.org, if you have any questions.
---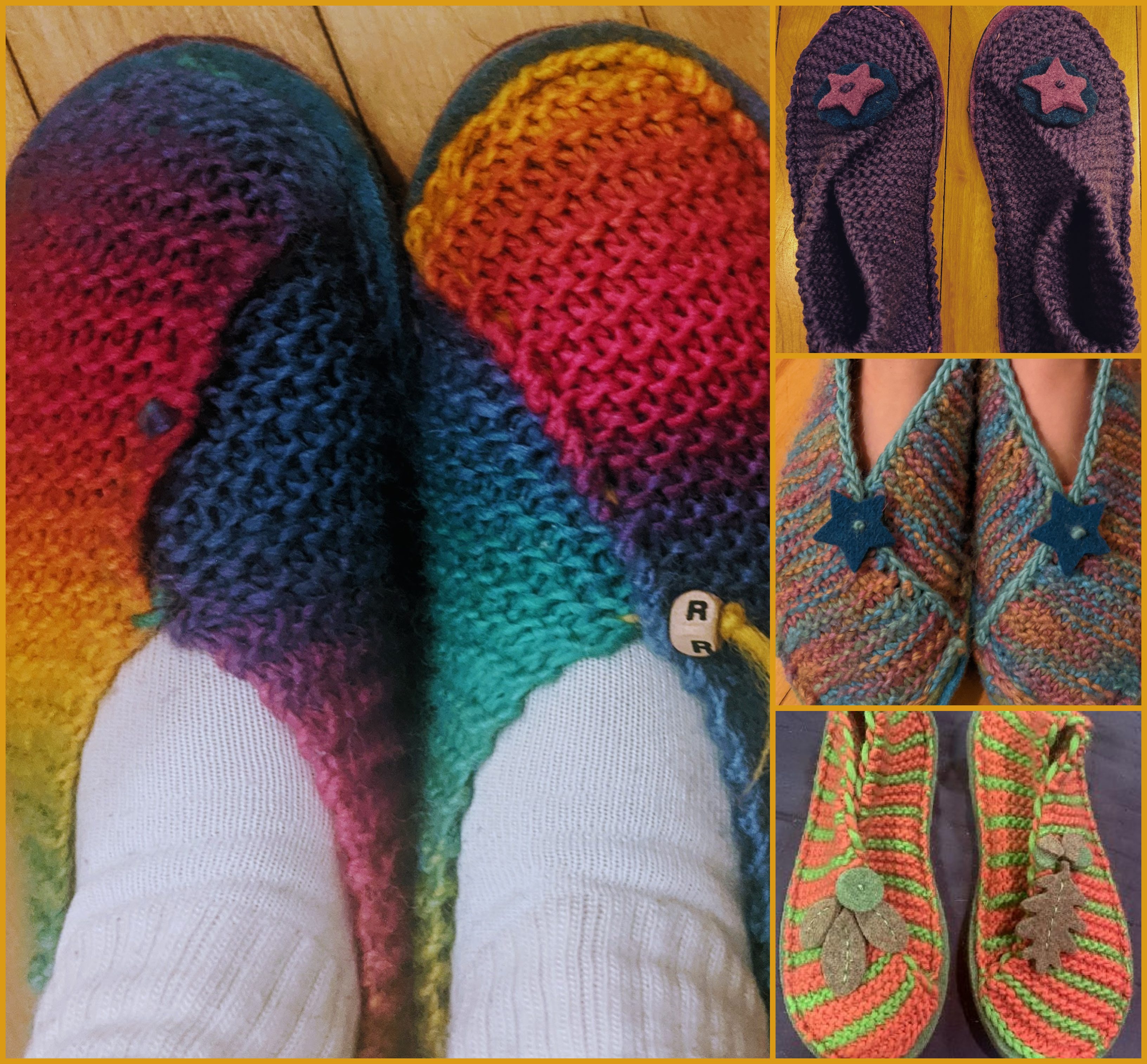 Cozy Slipper and Story Camp 
Ages: 7 through 14, 14 through 18 & Adults (see times below for more details)
Instructor: Victoria Mansuri
Dates:
Times:
10:30 am to 12:00pm, Ages 7 through 14
1 to 2:30 pm, Ages 14 through 18
Cost: $180/week,(Not including materials. See "Materials Needed" list below for details).

Description:
Make cozy and colorful, knitted slippers with felted wool soles for yourself or as a gift for a loved one.  Get a jump start on Christmas presents for grandma and grandpa or make sweet indoor shoes for a kindergarten sibling.
When knitters are humming along, Ms. Mansuri reads beloved stories with the younger students, and discusses topics of interest with the older students.
Daily Rhythm for Morning camp: 
10:30 am, Welcome & Opening Exercises
10:35 am, Begin instruction, with story/conversation when instructional needs allow
11:10 am, Bathroom and water break
11:15 am, Resume knitting, sewing, and story telling
11:55 Closing Verse
12 pm, Class ends
Daily Rhythm for Afternoon Class:
1:00 pm, Welcome & Opening Exercises
1:05 pm, Begin instruction, with story/conversation when instructional needs allow
1:40 pm, Bathroom and water break
1:45 pm, Resume knitting, sewing, and conversation
2:25 pm Closing
2:30 pm, Class ends
Daily Rhythm for Evening Adult Class:
8:00 pm, Welcome & Opening Exercises
8:05 pm, Begin instruction
8:40 pm, Bathroom and water break
8:45 pm, Resume knitting, sewing, and conversation
9:25 pm Closing
9:30 pm, Class ends
Prerequisites:
Campers need to have basic knowledge of knitting, know how to cast on and cast off, thread a needle, and sew
Materials needed:

Inner soles, outer soles, and waxed thread from Joe's Toes (you can also purchase felt decorations, if you like)

One Skein of bulky wool yarn

Size 8 knitting needles if you knit loosely, size 9 knitting needles if you knit tightly. 

Sharp scissors

A blunt, large-eyed tapestry needle
About Victoria Mansuri:
Victoria Mansuri (WWS alumna '88) has been a Waldorf teacher since 1996, when she started teaching Handwork and later became a Class Teacher.  Just before the pandemic hit, she "went rogue" and started her own company BY OUR HANDS ~ A Place to Create Together, where she teaches handwork in the community.  She has been successfully teaching knitting on Zoom for over a year and loves the interaction with the children and adults, alike. 
---
Drawing & Painting Camp
Ages: 9 through 12 years of age
Instructor: Allysun Sokolowski
Date/Week: June 28th
Cost: $180/week,(Includes some of the materials.  See "Materials Needed" list below for details). 

Description:
For this art camp we will come together on zoom for painting and drawing together! In addition to creating neat paintings and fun drawings together, we will also learn new techniques: combining crayons and watercolor together, how to use underdrawings, layering watercolors, and more. Our pictures will feature animals, plants, nature scenes, and more. Participants will need space to set up their paints, water in a glass, a towel that will get stained, and a hairdryer. We will work fluidly between painting and drawing over the course of the week.
Daily Rhythm: 
9:30 am, Welcome and opening of our time together via zoom
9:35 am, Art time
10:05 am, Story time
10:25 am, Quick break
10:30 am, Art time
10:55 am, Review our work 
11:00 am, Closing/Goodbye

Materials that will be supplied by Allysun:
Materials that need to be on-hand/supplied by the parents:
Watercolor painting notebook with 140lb paper
Colored pencils
Hairdryer (Note: Each participant will need to have a hairdryer near their workspace)
About Allysun Sokolowski:
A recent transplant from California, Allysun had been a Waldorf class teacher for over 11 years. She loves teaching children of all ages, and particularly enjoys drawing and painting together! Next year she will be teaching the sixth grade at WWS. Allysun holds a BA in Education from Mills College in Oakland, CA and is currently writing her thesis for her MAed from Antioch University of New England.
---
Pop-Up Bookmaking Camp
Ages: 6 through 9 years of age
Instructor: Jennaway Pearson
Days/Week:
Cost: $275/week, (Includes some of the materials.  See "Materials Needed" list below for details). 
Description:
This course will explore the world of pop-up books!  Children will learn how to build five different types of pop-up book structures. We will begin by using plain paper to build a maquette, and to ensure we understand how to construct that model.  After a quick break, we will work to build a second book, applying the structure we learned into a book with content.  In the second pop-up, students will be able to draw, paint, collage, or include writing in their book.  This course will be taught over zoom, and is ideal for students who enjoy cutting, drawing, collage work, and making books.

Daily Rhythm:
1:00 pm, Welcome/Greeting, we will gather, settle in and explore examples of the structure of the day
1:15 pm, We will build our maquette together leading the campers in step by step instructions for building our structure
1:40 pm, Break
1:50 pm, We will begin our second structure, during work time the campers will be chat about content ideas
3 pm, We will share our work with one another
3:15 pm, End of camp/Goodbyes
Materials that will be sent to the camper:
Book, cover-board materials and glue-stick
Materials that the camper should have on-hand:
Scissors
Drawing materials (crayons, colored pencils, markers, etc.)
For campers who enjoy collage-work, they will want to have collage materials (old magazines/calendars, paper scraps, etc.).
For campers who enjoy working with watercolors, they will want to have watercolor paints/brushes available.
About Jennaway Pearson:
Jennaway is a bookbinder and printmaker. She owns Three Snakes, a print and book studio located in Newburgh, New York where she lives with her husband Pierre, daughter, Lu, and her pug, Hagrid. Jennaway has taught at American University, George Washington University, George Mason University, Penland School of Craft, Studio 2-3, and others. Her work can be found in collections including: The National Museum for Women in the Arts, The Library of Congress, John Jay College of Law, & Private Collection.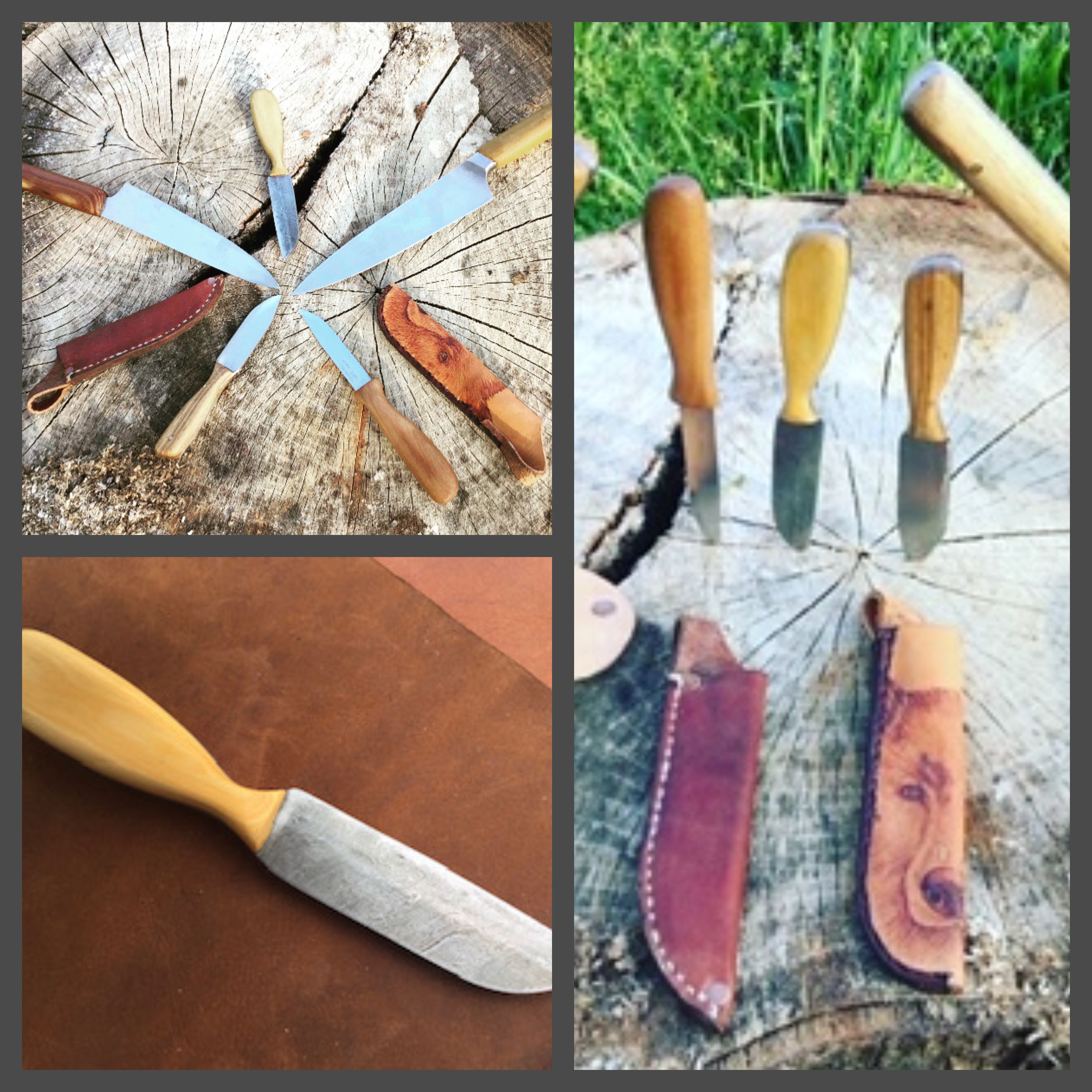 ---
You Choose: Leather Work/Knife Making or Bow/Arrow/Quiver Camp
Ages: 8 through 16 years of age
Instructor: Peter Yenken
Dates/Weeks: 
Cost: $350 (Includes materials). Materials will need to be picked up at Washington Waldorf School with details to follow after registration.
Students will make the handle of a knife and the leather sheath in which to carry it safely.  Campers will form the handle to fit their hand so each handle is particular to the individual child (the blades of the knife will be Mora Scandinavian blades).
Campers will then make a leather sheath to fit their knife.  After making a leather sheath, next is to make a leather shoulder or hip bag. This will be a bag that is either carried over the shoulders or carried around the waist.  They will design them to fit their individual needs of how they prefer to carry the knife and sheath.  If the camper is advanced enough to complete all of this, Peter will also teach them how to make a wooden spoon!
OR
Campers will make a wooden bow by hand from hickory wood, wooden arrows with real turkey feathers, and a leather quiver. They will also learn to shoot their bows using the instinctive archery or traditional archery methods.

Daily Rhythm:
9 am, Welcoming/Check in
9:15 am, Instruction
10:30 am, Snack break
10:45 am, Instruction
12 pm, Lunch Break  
1- 3 pm, Instruction based on students needs
About Peter Yencken: Peter has been making bows for more than 25 years. He started making bows while working at Tom Brown Jr's Tracker School. He is a guest teacher to many wilderness schools here in the U.S. and in Australia. Peter has taught the art of making bows to well over 1,500 people ages six to 89.