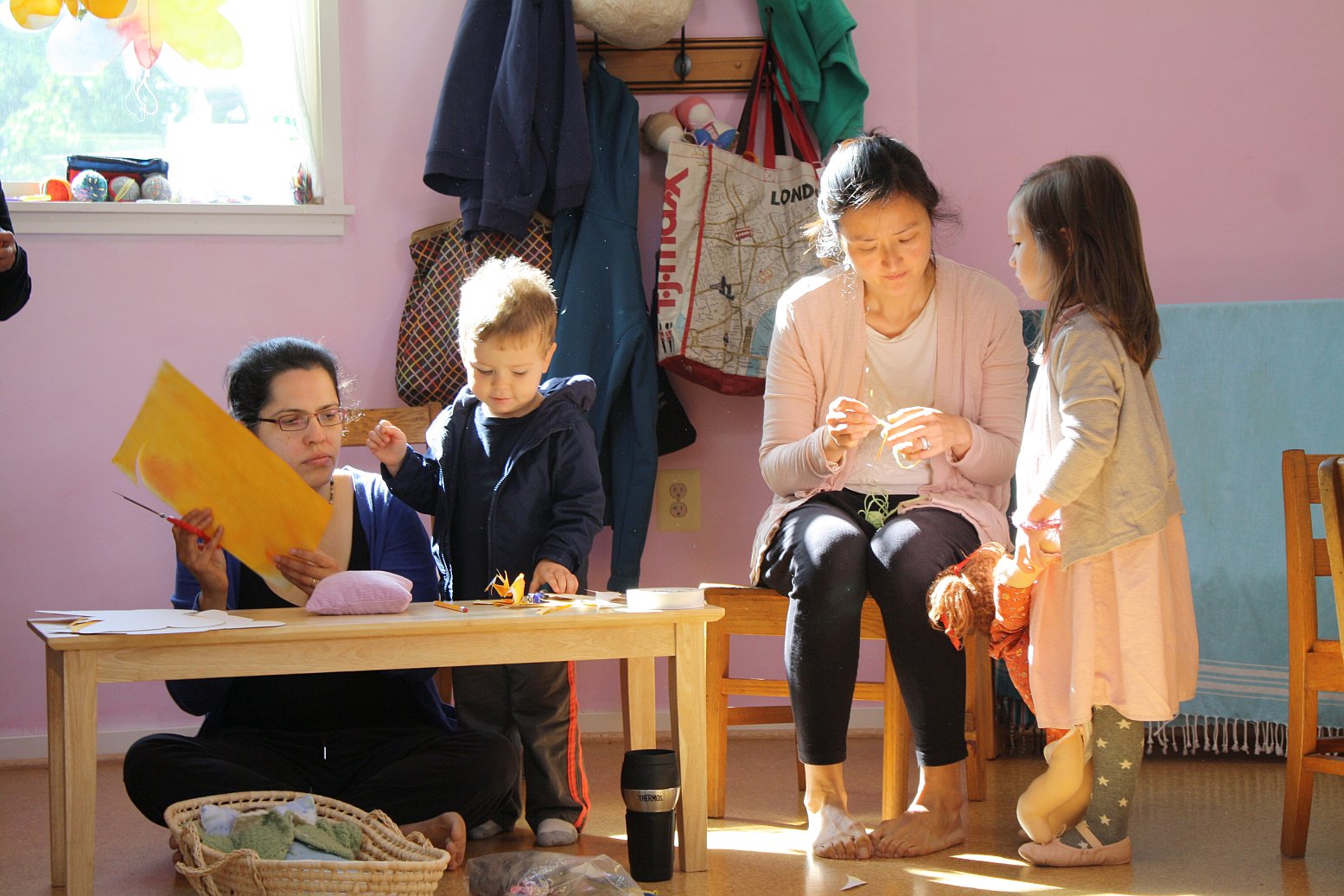 Classes for Parents and Young Children
Parent-child classes at the Washington Waldorf School offer a gentle introduction to the group setting and a welcoming environment for parents and children. Here, children are immersed in a calm atmosphere and quiet rhythm that supports play, healthy self-initiated movement, and imitation. We explore themes related to child development, Waldorf education, and parenting the young child through readings and facilitated discussions. Experienced Waldorf early childhood educators, who care deeply about supporting each parent/guardian and child on their own individual path, lead our classes. We meet weekly either at a beautiful outdoor spot.
Spring 2021 Classes
Parent-Child classes will include craft time, a hike/nature walk, play time, and story/circle time. Classes will be held outdoors, at Westmoreland Hills Local Park, with Cabin John Local Park as an alternate location. The teacher will lead discussion on parenting topics, including sending articles of interest to the group between classes.
Teacher: Lisa Bechmann
Maximum enrollment per class: 6 
Parent and Baby (non-mobile/crawlers/beginning walkers)
Dates: April 9 – May 28
Cost: $400 for 8 sessions
Sessions:
Fridays, 11 AM - 12:15 PM

FULL
Parent and Toddlers/Two-Year-Olds
Dates: April 6 – May 28
Cost: $480 for 8 sessions
Sessions:
Tuesdays, 10:30 AM - 12 PM

- FULL

Wednesdays, 10:30 AM - 12 PM

FULL

Thursdays, 10:30 AM - 12 PM

 FULL
To be added to the waitlist, or if you have questions, please email Torie Gorges in our enrollment office.
Things to know:
Parent-Child classes will follow the healthy and safety procedures of the school. Please review the Maintaining a Healthy Environment and Community section of our reopening plan. Of particular note: 
Masks must be worn by adults and should be worn by children over the age of 2 to the extent possible.
Sick children and parents must stay home from Parent-Child classes.
All families must complete a health screening upon arrival at class.
Classes are limited to a maximum of 6 families per class (minimum of 4). Enrollment is first-come, first-served.