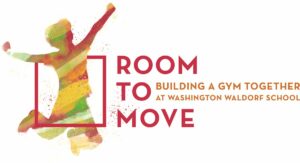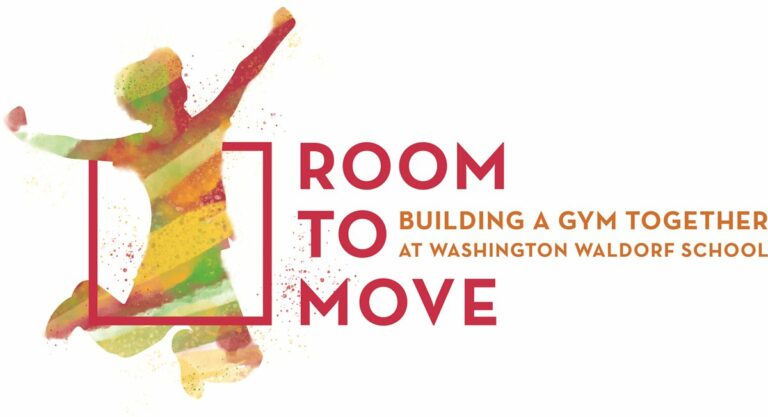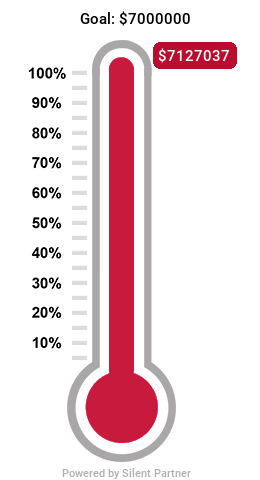 The Washington Waldorf School is thrilled to share that the Room to Move campaign to build a gymnasium on our school's campus exceeded its $7 million fundraising goal! Altogether, 402 donors came together to raise a total of $7,127,037! Every dollar raised as a part of this campaign has contributed to the project. Funds raised beyond the $7 million goal will be used by the school to replenish its reserve funds. Prior to the Room to Move campaign, a portion of the school's reserve funds were used for planning, permitting, and consulting, as well as early architectural and engineering fees.
We thank every donor and volunteer who contributed their resources and time towards making the Room to Move campaign and the John and Mary Brauer Gym possible. We especially thank our lead donor and alum parent, Brad Clark, for his transformative $3.5 million challenge gift towards this initiative. His investment has inspired the Washington Waldorf School community to match his generosity, dollar for dollar, to reach a total goal of $7 million dollars to finance the Gym.
We also extend our gratitude to our Campaign Co-Chairs, Vanessa and John Beckman and Maria Monteverde-Jackson and Jon Jackson. They worked tirelessly throughout this campaign, hosted many events, met individually with other families, and inspired our community to give at its highest capacity.
We achieved 100% participation from the Trustees Council, 80% support from faculty and staff, and 4 out of 5 parents supported the school during this time. Many donors increased their giving over prior years, and multiple families made their largest commitments ever to make this vision a reality, including 35 gifts of $25,000 or more. In addition, 63 alums stepped forward to support this effort, many of them giving to our school for the first time.
Every donor who contributed to this campaign will be honored on a plaque in the new Gym. It took our entire community to make this endeavor possible, and this visual representation of each donor's participation will not only recognize and honor every gift, it will also inspire future generations of WWS families.
At Mr. Clark's request, the Gym will be named after two longtime faculty members, alum parents, and grandparents of the school, John and Mary Brauer. The John and Mary Brauer Gym will open in time for the 2023/2024 school year, and serve as an athletic facility, additional classroom space, and a community space. We will celebrate the opening of the building with a ribbon cutting event on Saturday, September 9, 2023. There will truly be more Room to Move!
The Room to Move campaign also acknowledges the success of Washington Waldorf School's previous campaign, Build Our Vision, which completed Phase 1 of necessary renovations to our existing building at 4800 Sangamore Road. Building the gym is Phase 2 of a vision to make 4800 Sangamore Road a long term home for Washington Waldorf School. Building the gym is possible today because of the dedication, hard work, and generosity of many previous parents, grandparents, and faculty.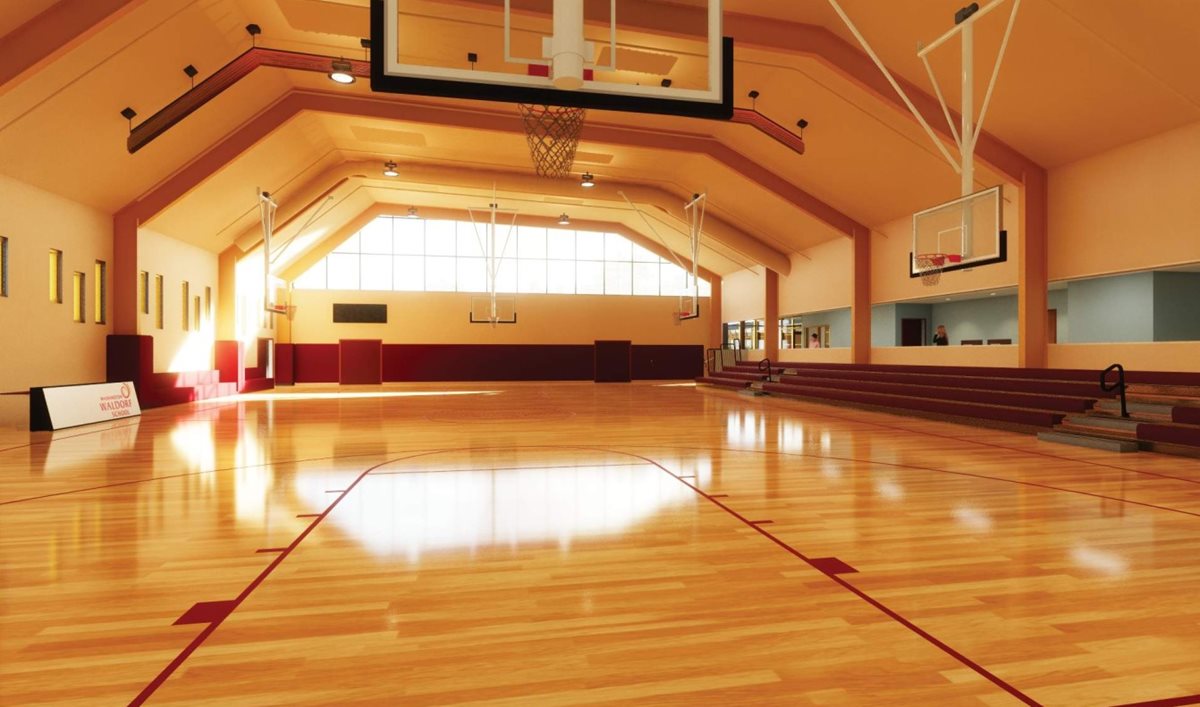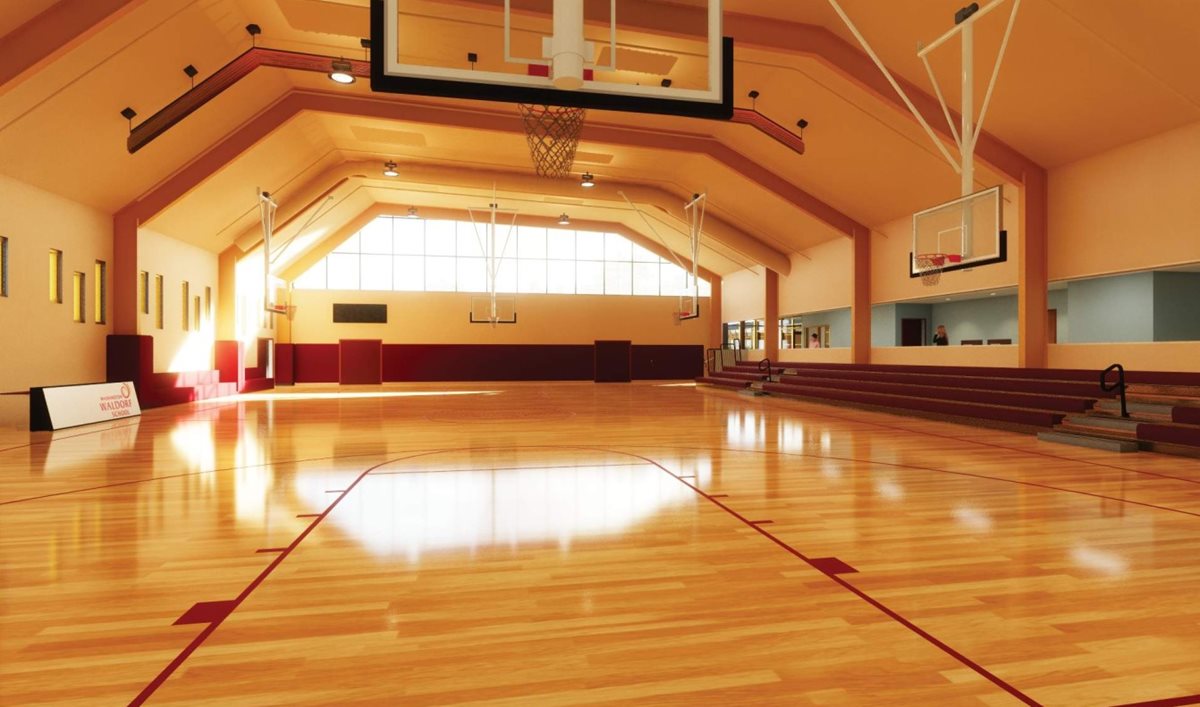 Vanessa Beckman, Co-Chair
John Beckman, Co-Chair
Brad Clark, Co-Chair
Stephanie Hanson, Director of Development
Jon Jackson, Co-Chair
Pat Jackson, Campaign Counsel
Maria Monteverde-Jackson, Co-Chair
Taisto Saloma, Athletic Director
Lelia True, Faculty Chair/Head of School
Maria Monteverde-Jackson, Co-Chair, Current and Alum Parent
Marilyn Noguera, Co-Chair, Current Parent
Vanessa Beckman, Current Parent
Stephanie Hanson, Director of Development
Kimiko Lighty, Current Parent
Kate Mueller, Current Parent
Lelia True, Faculty Chair/Head of School
Sarah Wester, Current Parent
Anja Caldwell, Current Parent
Bill Caldwell, Current Parent
Michael Gibson, Current Parent
Stephanie Hanson, Director of Development
Adam Lotinsky, Project Manager
Caitlin MacKenzie, Current Parent
Taisto Saloma, Athletic Director
Lelia True, Faculty Chair/Head of School
Dan Wacker, Former Trustee Counsel Chair
Scott Wilets, Current Parent
James Wise, Site Committee Chair, Current Parent
Thanks to all our donors
Thank you to the following parents, alums, faculty, parents of alums, grandparents, and friends whose gifts have helped us exceed our $7 million goal to date for the Room to Move campaign
(As of June 30, 2023, listed in order by last name)
Sven Abow
Natalie and John Adams
Elise Adelmann
Marianne von Oven-Alsop and David Alsop
Ali Alwahti
American Family Insurance
American Online Giving Foundation
Laurent and Clare André
Anonymous (2)
Samrawit Aragie
Carlos Arrien and Raquel Gomez
Kathleen Baker and David, Milo, and Iona Plevan
Geoff Baker
Barb and John Bancroft
Kaylyn Bancroft
Kyle and Zayani Bancroft
Bank of America
Dixie Barlow
Taylor Barlow Grabo
Lilly Barnwell
Maria Banda and Jonathan Beauchamp
Cameron Bechmann
Christina Beck
Vanessa and John Beckman
Dawn Beckman and Haneef Omar
Jenia Beer and Sebastian Beer
Benessaiah-Calis Family
Aglaia and Karim Benni
Jack Benson and Cecilia Berg-Benson
Ella A. B. Benson
Claudia Berg and Daniel Trainor
Eva Binamu and Julian Paine
Anika Binnendijk and Nathaniel Hoopes
Kate Black and Paige Contreras
Wendy Blair
Emily Bliss and Griffin Witte
Wilma Bonner
Judith Bosma
Rocio Gomez Botero and Felipe Munoz Gomez
Mr. Brauer's First Class, 1975-1983
Doerthe and Philipp Braun
Bridgemaster Bridge Club
Francesca Munzi and Kent Brokenshire
Bronwen and Deryck Brown
Cully and Sara Brownson
Adrienne Gallo and Aaron Bruner
Jim and Chrissie Bryla
Barbara Buchman and John Verleun
Edward Buckley
Lynn Bufano
Mikaela Bufano
Nathan Bufano
Florencia del Villar and Micah Bump
Laila Bunker
Anja and Bill Caldwell
Lila Campbell
Chris Carlton and Elizabeth Zwicker
Lisa Catalone-Castro and Rodolfo Castro
Eddie Chang
Kathy and Ivan Charner
Megin Charner-Laird
Jenni Chaves and Gregory Willits
Gurumeet Cheng and Sat Nam Khalsa
Jane Christenson and Tom Nastick
Alfred Clark, Jr.
Class of 2000
Class of 2020
Class of 2022
Class of 2023
Class of 2024
Class of 2031
Class of 2032
Lewis Cleveland
Laina Clugston
Jeanine Cogan and Colleen Corrigan
Michele and Fred Coleman
Maybelle Kou and Kevin Collier
Bridget Conway
Colleen Cordes and Robert Engelman
David Courage
Ayesha and Randolph Court
Karla Brandt and Rob Covey
Laura and John Cox
Ricardo L. Cruz
Patricia Cunningham
Barbara Cuthill and David Nebiker
Leah and David Cutler
John F. Dammann, Jr.
Daney Family
Julia Dann
Michael Danzansky
Tina Daub
Elena Day
Denise Deckert
Justin Demmerle
Ashwini Deshpande and Christopher Goldman
Nick DeVinney
Jennifer, John and Lucas Dickman
Stephanie Dorius
Adam Dorius
Wiley Drake
Corie and Michael Driscoll
Aimee Duncan and Justin Duncan
Elsa Gomez and Andres Echeverri
Zeina Chouman and Houssam El Eid
Rolf El Eid
The Eldadah Family
Tove and Susan Elfstrom
Manfred Elfstrom
Lucy Engelman
Yukiko and Brett English
Jim Epstein
Justine Epstein
Elizabeth Streicher Epstein
Jim and Susan Evans
Mitch Fanning
Landen Lyons Faulkner
Julian Feeley
Jules Feeney
Lucia Fernandez
Anne and Bob Fleishman
Erin Foreman-Murray
Nancy and Bill Foster
Daniel and Adria Foster
Katie and Charles Fox
Kris Fuhr
Susan and Joel Fuller
Allison Fultz and Steve Langer
Catherine M. Gaffney
Julie A. Garcia
Laur and Jesse Garner
Tania Delgado and Franz Gerner
Kate Mueller and Mike Gibson
Michael and Chris Gibson
Bridget Gibson
Erica and Andrew Girvin
Jenny Kittelsen and Greg Gisvold
Tammy and Nicholas Gompper
Susannah Goodman and Ted Zegers
Rosa Goodman
The Goodyear Family
Torie Gorges and Todd Manchester
Svetlana and Alexey Gorokhov
Jessica Gottlieb
Judith Graff and Jeff Caudill
Lisa and Tom Gray
Danielle and Thomas Gresham
Cindy Guayante
Karen and Ryan Guilds
Shelly and Andre Hackman
Elise Hackman
David Haddock
Elizabeth Hagerman and Edwin Welles
Frank and Anna Hall
Hilla-Marlis Hamann
Nick and Katrina Hampton
Stephanie, Dave, William and Aila Hanson
Linda and Bill Hanson
William and Aila Hanson
Vivian and Chris Hartenau
Kate Hedges
Emma Heirman
Sarah Heirman and Eron Picus
The Henrys
Leni Hunter and Alistair Henry
Mimi and Gary Hetzel
Shena Ashley and Paul Hirsch
Nancy Hirshbein and Bob Roche
Eric and Susan Holdsworth
Thomas Holmberg and Alison Southall
Barbara and Larry Hoover
Marie-Christine and Mark Hoover
The Hopkins Family
Christina Hsieh Mollard and Andy Mollard
Nick Huguet
Virginia Ibarra and Kumait Jawdat
Iris Smorodinsky and Eiichi Ito
Maysoun Freij and Atsushi Iwai
Wendy Jackson
Raquel Montalban Jalali and Wais Jalali
Jennie Rabinowitz and Daniel Jamieson
Mary Peckham and Steve Johnson
Madelaine and Phil Johnston
Dulce Maria de Guadalupe Govea Aguilar and Remy Rosan Ali
Jokhoe
Guiesseppe and Kathyrn Jones
Susan Joplin
Gogi Kalka and Adam Smith
Christine Kanter
Mia Jade Kaplan Kristensen
Louis Kaplan and Leslee Shad
Stephen Kaufman and Leslie Slow Kaufman
Leah Kedar and Kevin Mutschler
Helena Kehoe
Gurjeet Kaur and Gurujeet Singh Khalsa
Dharam Khalsa
Deeyah Khan and Darin Prindle
Patricia King Jackson
Gopi Kinnicutt
Lincoln Kinnicutt
Terri and Mike Klatzkin
Meg Lyons Kneisl
Katharine Knuth
Danielle and Matthew Kozlowski
Yulia Kriskovets
Kaplan Kristensen Family
Wally and Mechelle Kulesza
Morgan Kulesza
Ryan Kulesza
Nathan Kulesza
David and Lori Kulik
Lilli and Cornelius Kuth
Camilla Lake
Velma LaPoint and Robert White
Ashley and Jesse Laughlin
Lezlie Lawson and Rob Barnwell
Antoinette and Ron Leake
Robin and Nicholas Leake
Valerie LeBlanc
Annette and Jonathan Leland
Christen Leonard
Julia Lieberman
Jennifer and Rob Liebreich
Jill and Phil Lighty
Kimiko and Phillip Lighty
Amelia Lighty
Nathaniel Lighty
Tiziana Lohnes
Hannah Losman and Drew Sample
Kate Losman
Jay Louvis
Annick Genson and Ian MacDonald
Mary Ann MacKenzie
Caitlin MacKenzie and Noel Bicknell
Margaret and Robert Mansker
Tom Mansour
Victoria P. Mansuri
Marija and Ivan Marovic
Katherine Marshall
Klara Matouskova
The Maurer Family
Chiedza Mazonde and Kevin Mtandwa
Christopher and Stephanie Mazonde
Katie and Brian McCarthy
Bonnie McClelland and Wade Morefield
Laura and Jonathan McCoy
Jane McDonald
April McDowell
Esther Probst and Daniel McSwain
Benjamin J. Meier
Bill Merkel
Arianna and Gary Messplay
Melanie and Earl Metzger-Fleetwood
Caroline Brearley and Steven Meyer
Susan Michelson
Stacey Helberg and Craig Middlebrook
Ella B. L. Middlebrook
Montes Burbano Family
Maria Monteverde-Jackson and Jon Jackson
Margaret Morehouse
Joaquin Moreno
Lauryn Morley
Rieko and Tetsuo Motoba
John Mtandwa
Greg Mueller and Patty Deuster
Adam and Erica Mutschler
Dileep and Natasha Nair
Chiz Tamaki and Michael Nakamoto
Peter E. Nash
Sara Mangiaracina and Andrew Neilson
Joseph Nguyen
Marilyn Noguera
Ursula Nottnagel
Eileen O'Connor and Family
Elizabeth Oelhaf Frishkoff
Katelyn Olson
Serafina Orobello and Arnaldo Cocuzza
Dawn and John Pace
Catherine Padley
Jennifer and Gregory Page
Adriana Gomez-Ochoa and Juan Carlos Parra-Osorio
Carol Parsons
Robyn and Chris Pashby
Katrin Patterson
Susan Peckham and Daniel Abraham
Jack and Carol Petrash
Ava Petrash
Jonathan Petrash
Peter E. Petrov
Melissa and Todd Phillips
Nikita Pion-Klockner
Lisa M. Pitillo
Maria Poli de Michele and Roberto de Michele
Marlies and Marcos Poplawski Ribeiro
Alexandra Porr Mazeres and Lev Mazeres
Miranda Monkhorst-Prenger and Joseph Prenger
Ambika and Paul Prokop
Justin Pyles
Kellye and Eric Quirk
Karen Radermacher and Stephen Sugg
Rao Family
Jennifer Robinson and Eben Kaplan
Mary and Peter Robinson
Claire and Jerry Rupert
Cindy and Brian Rupert
Russell and Gemma Sage
Taisto and Abby Saloma
Henry and Susan Samuel
Mary Samuel
Kathryn Sandstrom and James Outen
Chrissie and Lex Sant
The Santos Family
Maria Alonso and Rodrigo Sanz
Gabriele Schilz and Andrew Joseph
Marta Schley and Paul Squire
Mona Sehgal and Sree Ramaswamy
Rebeccah and Eric Sensenbrenner
Hannah Shaw
Joy and Peter Shchupak
Helga Dimmer and Felix Sieghart
Colette and Michael Silver
Margo Reid and Greg Simon
Lindsey and John Simpson
Jessie and Stephen Sincavage
JJ and Sonu Singh
Gary and Shannon Skowronski
Kathryn Ann Smith
Abel Smith
Steve Smith and Jacqueline Newell
Rob Sorkin
Debbie and Chuck Spitulnik
Janaki Srikant
Felice Stadler
Alexis Starkey and Scott Nova
Aliandra Starre
Theodora Scarato and Steve Steckler
Pat and Michael Stevens
Mike Strunk and Alana Borges
Rina and Colin Studds
Joanne Swierz
Sylvia Szankay and Fernando Tripodi
Laurelle Lo and David Talbot
Dawn Tanner and Emily Siegel
Suzanne and Carlos Tapia
Bill Bunting and Ginny Tarris
Helina Tedla
Eula Thomas
Paula and Troy Thomas
Rodney Thorn
Erica Tingler
Aubrey Tingler
Sophie M. S. Toolanen
Steve Topetzes
Jesse Travis and Greg Heltzer
Judith Travis
The True Family
William True
Christopher Turner
Victoria Turner
Elizabeth Unkle
Sarah Vakkur and David Kirby
Craig van Schilfgaarde
Sara VanderGoot
Mara Viksnins
Dan and Yon Wacker
Susan E. Walsh
Washington Bridge League Unit 147
Ginny and Bruce Weber
Lynn Wenning-Adelmann and Stephen Adelmann
Sarah and Shay Wester
Carla Wheeler and Jeff Naimon
Wilets Architecture
Amy Wilkins
Peggy McManus and Steve Wilkins
Ruth and Robert Williams
Stanford Williams, Jr.
James and Pamela Wise
Dean and Sally Wise
Mathew and Rianti Woodward
Anne and Tom Wotring
Alison and Gregory Yeich
Theo Zizka
Marcia and Gary Zwicker