Politics & Prose Book Fair
Sunday, April 30, 10:00 am - 7:00 pm
Sunday, April 30 Washington Waldorf School will partner with local independent bookstore Politics and Prose (Connecticut Ave. location). Your shopping and dining will support Washington Waldorf School's ONE FUND, with 20% of your Politics and Prose purchase going back to the school's ONE FUND.
At Politics and Prose, you may purchase a book for your own family's use or, if you would like to donate books to Washington Waldorf School as well, refer to this wish list for books needed in our library and our reading resource room.
Please present this flyer at check out. You may either show the flyer on your phone or present a paper copy.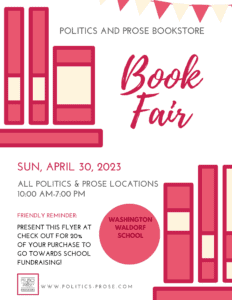 If you purchase books from our wish list, there will be a book drop box outside or in our lobby's portico area, with a sign that says "Politics and Prose Book Donations".
Thank you so much for your support!
Questions? Email shanson@washingtonwaldorf.org