Fostering Passionate and Skilled Readers
Waldorf educators love reading and understand its importance for all learning. That's why we teach the skill in a way that differs from the methods of many other schools. We're aiming higher, using an approach that's more likely to foster the development of passionate readers with a rich vocabulary and a deep understanding that goes well beyond the words on the page.
How are we different? Many school systems teach the alphabet in kindergarten and push students to begin reading before they reach age 6. But there is no compelling evidence that this will help children become better readers in the long run; in fact, it could hold them back. So here at the Washington Waldorf School — as at all Waldorf schools, for every subject — we teach the skill of reading in a way that is more attuned to a child's physical and mental development.
Here's how we do it — and why we do it.
Research suggests that the optimal age for most children to begin reading is about 6 ½. We spend the time before that age laying the groundwork by building a solid base for advanced comprehension and vocabulary skills. After that age, we continue to teach reading at a pace that keeps students engaged and advances them to higher levels of thinking.
Brian Lake, whose quarter-century at Washington Waldorf include seven years teaching English in sixth through eighth grades, describes it as an "enriched approach" that treats reading as more than a technical skill. He cites a speech pathologist friend, who told him that the young children in his school system could decode any word but often could not relate the word to its meaning.
At Washington Waldorf, Lake says, "we want to develop appreciation for stories, sounds, and meanings of words."
The goal, as the children advance in grade, is to instill "a living relationship with the written word."
KINDERGARTEN: A RICH PRE-READING ENVIRONMENT
Waldorf kindergarten instruction focuses on the spoken word. We don't compel children to learn letters by assigning specific activities and tasks. Instead, we engage their imagination, thinking, and listening skills with child-initiated play and experiential learning.

"A deep, imaginative connection to language happens with the curriculum that we offer," says Jennifer Saloma, a Children's Garden teacher here since 1988. "Even though we're not teaching children letters or how to read, they are getting a tremendously rich pre-reading environment."
"We would never stop a child from reading," Saloma emphasizes. "But we want children in kindergarten to be active, developing physically, and engaged deeply in play, because we think that's how they learn best before the age of 6."
Every day, the teacher tells a story or acts one out in a puppet play. The stories — from Grimms' fairy tales, for example — are carefully chosen for their quality.
"The language of these stories is pitched a little above the vocabulary they are comfortable with, so they're stretching," Saloma says of her students. "As they're hearing this language, as they strive to understand the meaning of the words, they are forming pictures in their minds. This is the beginning of a very deep connection to language — to the spoken word, to the written word." With the creation of these imaginative pictures, children are building the foundation of reading comprehension.
Poems, songs, nursery rhymes, and language-inspired movements (such as pretending to dig sand out of the carpet for the word "sandy") also deepen the connection. Children can look at the picture books in the classroom or ask the teacher to read them a story.
"We convey that we love reading," Saloma says, and the school encourages parents to read to children at home.
GRADES 1–5: FROM WRITING TO READING TO REFLECTION
In first grade, students learn the names and sounds of consonants and vowels through the artistic and physical approaches of drawing, painting, movement, and speech. For example, the teacher and students might use the shape of the letter "M" as the basis for a picture of a "magical, mystical mountain." Dawn Tanner, who has been teaching first through eighth grades at Washington Waldorf for 12 years, recalls one student who came back from a family trip and told her she saw a magical, mystical mountain.
"She could really grasp the letter 'M,'" Tanner says. "It was very real for her."
First-grade students begin to learn to read through their own writing. For example, they may hear a fairy tale and draw pictures based on what they heard. They may copy the writing from a poem they have already learned to recite from memory. The artistic, deliberate process engages the children, and by the end of first grade, they are writing and reading sentences and short texts.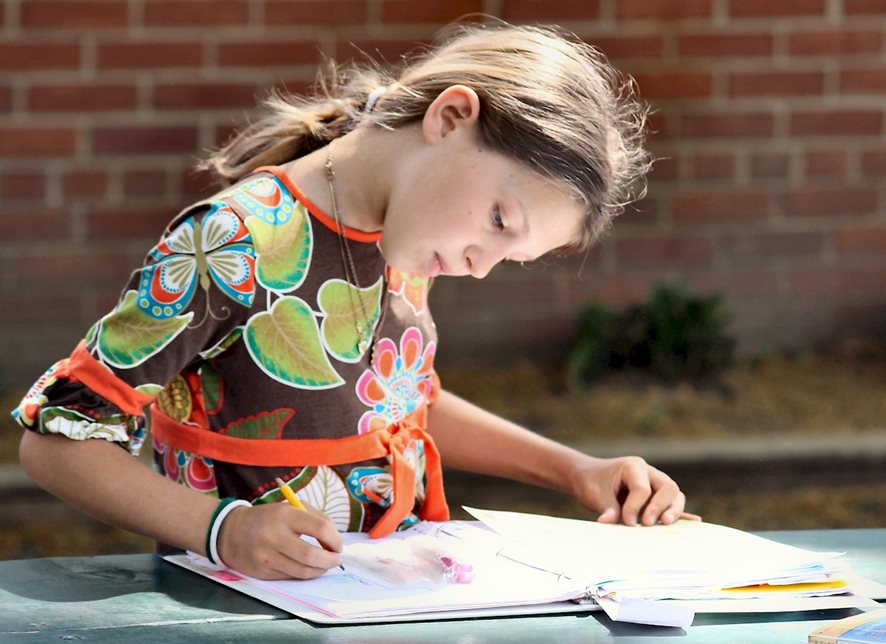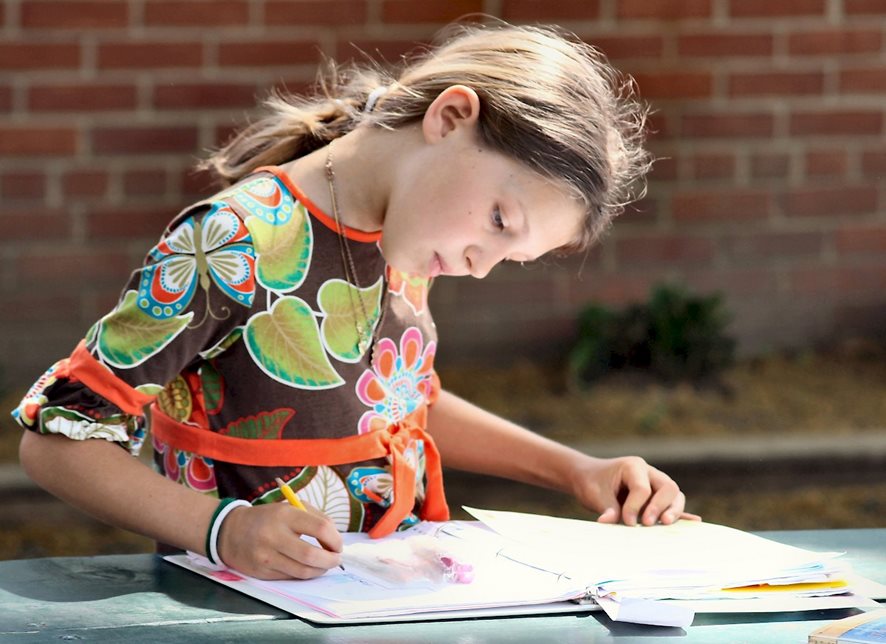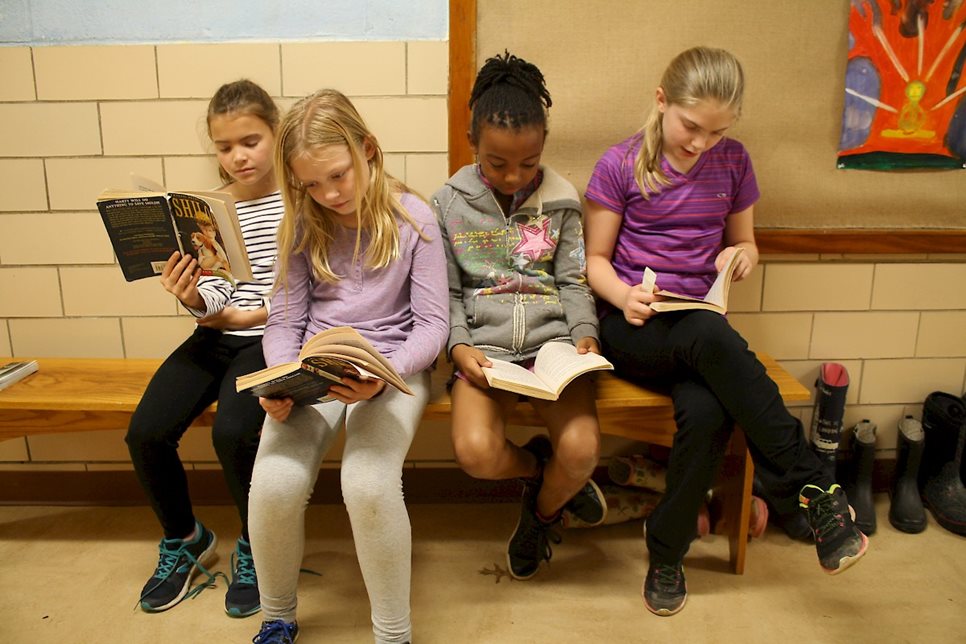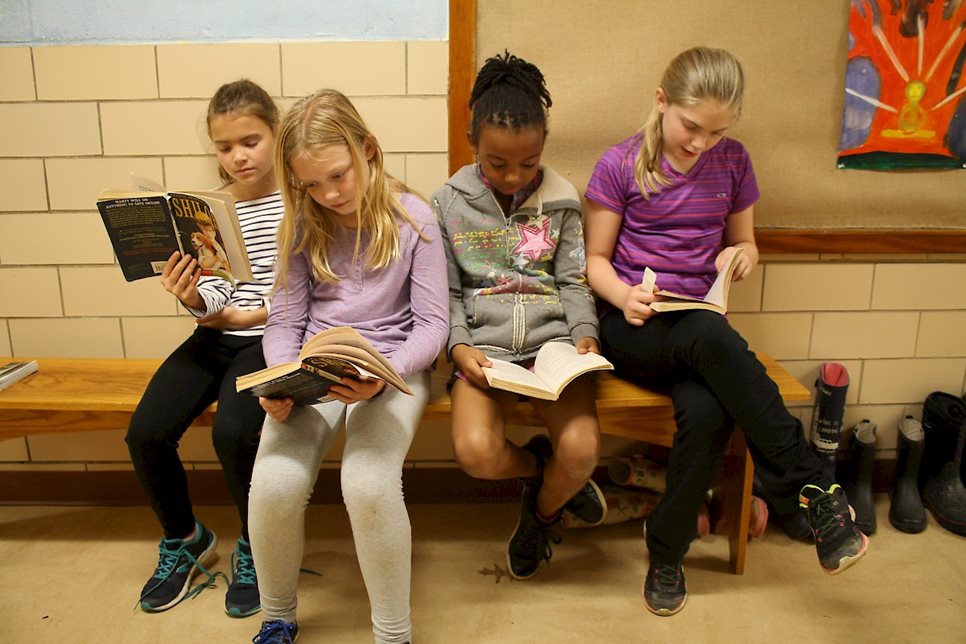 Second-graders focus on letter sounds and blends (like "th"), and they sometimes use rhyming words to create stories. They also typically begin using printed readers with their teacher during the second half of the school year. These include "Frog and Toad" and other basic texts, Tanner says, although some students read more advanced books on their own.
In third grade, the books get more complex — novels like "Sarah, Plain and Tall," which explores themes of abandonment, loss, and love, and "The Hundred Dresses," which is about bullying and friendship. The Old Testament is taught from a literary perspective, and stories about Native Americans are introduced in third and fourth grades, when students learn about tribes.
Fourth-grade instruction includes more time for students to reflect on what they have read and to do independent work, such as writing about books in a journal. Students may read silently or aloud, alone or in groups, depending on the teacher's preference.
In fifth grade, everyone in class reads the same book and talks about it together. Ancient cultures and Greek mythology are common topics.
"It's a developmental approach," Tanner says of the reading progression. "It gives children time to grow into literature. They're not forced into reading books that are above their conceptual level."
GRADE 6: THE BIG SHIFT
In fifth grade, the school is focused on building student interest and engagement in the story, poem, speech, or play. But in sixth grade — the first grade in which a separate skills teacher comes to the class specifically to provide English instruction — students are taught to read more consciously. They learn how to become more aware of the author's motivation and technique.
"We view sixth grade as being the time of 'the big shift,'" Lake says.
The learning is more analytical, deconstructive, and layered — examining syntax and structure, and looking for deeper meanings beyond the literal ones. It makes the use of language more conscious — not only in reading, but also in speaking and writing. Students engage in discussions and take tests that require writing an essay, encouraging them to think about what they have read.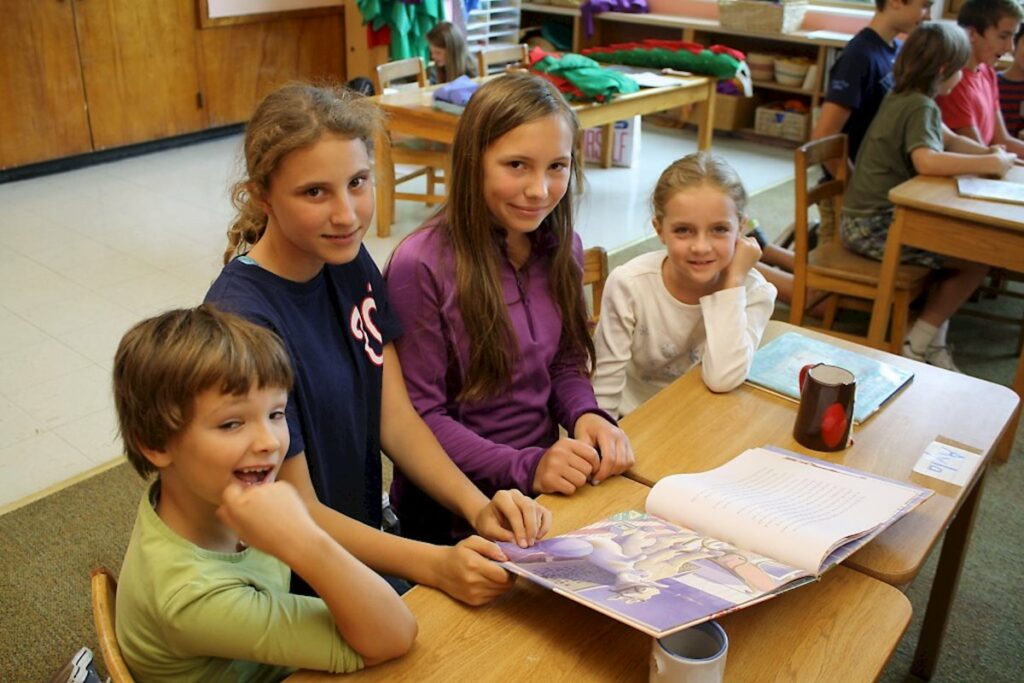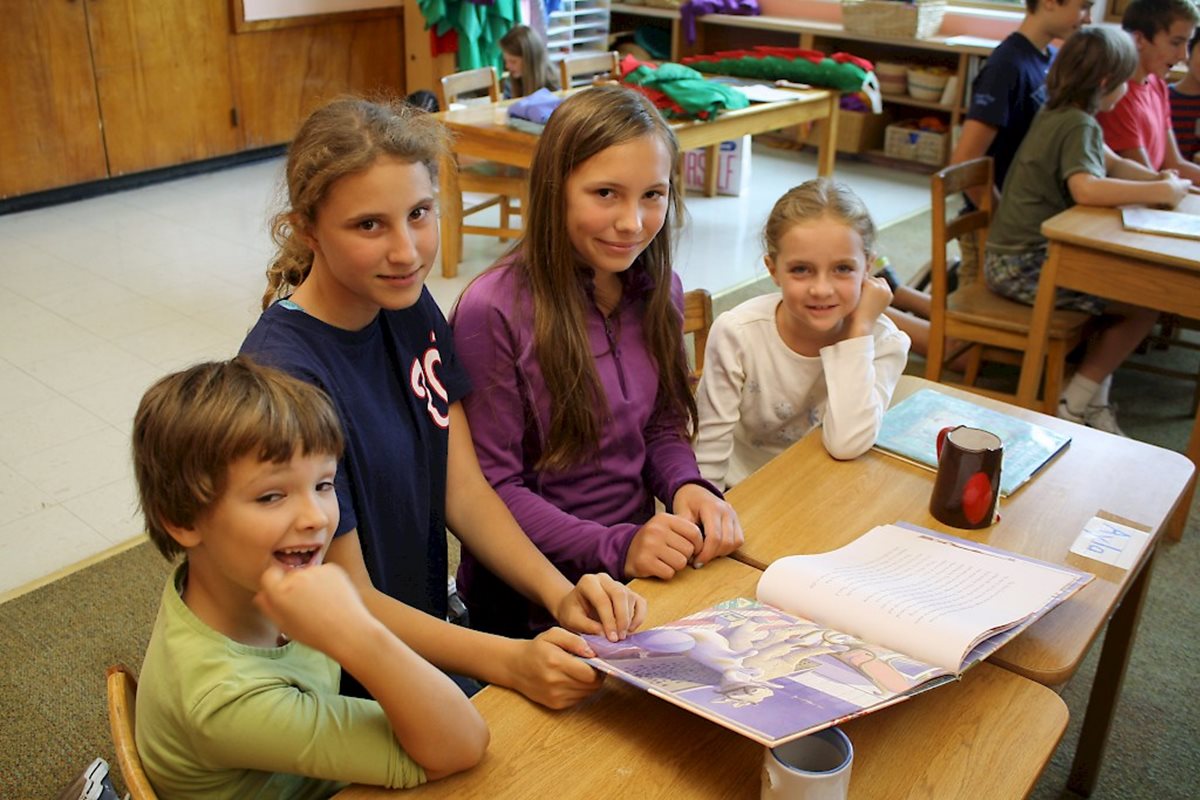 "A story always tells more than the mere words, and the point is being more systematic about drawing out what's hidden there," Lake says. Before sixth grade, he adds, the students "have been hearing the best literature there is to offer and making it part of themselves. So it's a smooth transition to saying, 'Here is what I'm seeing behind the words.'
"That makes it not drudgery, but something pretty exciting," he adds. "I've had students standing on chairs wanting to answer questions. They're just that eager to share their insights."
Books are fodder for class discussion. Many are historical fiction, such as "The Watsons Go to Birmingham – 1963" (about the civil rights movement) and "Johnny Tremain" (about the American Revolution).
There also is a lot more writing in the middle grades. By eighth grade, students have enough detachment and perspective to start experimenting with their own writing style.
HIGH SCHOOL: READING, WRITING, AND RESEARCH
That emphasis on writing continues in high school, where English classes focus heavily on both reading and writing, says Valerie LeBlanc, a Washington Waldorf high school English teacher and high school chair. Ninth-grade writing is more descriptive, to encourage students to clearly observe the world around them and to anchor themselves during what can be a tumultuous transition to high school. Starting in 10th grade, Waldorf education pushes high school students to be more abstract in their thinking and writing.
Similar to the progression in writing, reading becomes more challenging, as ninth-grade students read books that are heavier on plot and lighter on undertones — such as "Lost Horizon," the novel that introduced the mythical sanctuary of Shangri-La. By 11th grade, students are delving into more thoughtful and reflective material such as "The Divine Comedy" and the works of Shakespeare.
High school English instruction also builds students' research sophistication, including how to determine reliable sources on the internet. Students in 11th grade complete a scholarly analysis, and 12th-graders write a research paper on a literary genre.
The goal, LeBlanc says, is to graduate accomplished readers with habits of inquiry that are supported through literacy.
That has become a greater challenge in today's image and sound-bite culture, which can undermine focused attention and serious thought. But Washington Waldorf's reading and literacy instruction, like its teaching methods for other subjects, can be an antidote, LeBlanc says.
"It's a very strong education in paying attention."
SEE THE WALDORF APPROACH IN ACTION.