Celebrating Our Community Members
We celebrate the contributions that our school community members make on local, national, and global fronts. Below are some of the ways that our community members responded during the COVID-19 pandemic lockdown in the spring of 2020.
June 10, 2020
On our last day of this school year, the WWS faculty was glad to keep up the tradition of sending our students off with a choral offering. Wishing courage and strength to all in these extraordinary times!
"Wester Caputh" by Brendan Taaffe
May 16, 2020
To close out our Golden Gala celebration, Dan Foster (WWS Alum, WWS Parent) and son Jeremy (10th) performed the Mozart Duo in G Major for violin and viola, 1st & 3rd movements.
May 11, 2020
Lisa Bechmann (Seedlings Teacher & Children's Garden Coordinator) participated in this international remote choral project out of Liverpool, England that benefits charities that help vulnerable populations in that city
May 9, 2020
WWS Alum Brian Spitulnik joined his Broadway cast mates from CHICAGO, to create this quarantine version of 'All That Jazz.' (He's the one in the sunglasses with the bottle.)
May 5, 2020
The National Symphony Orchestra Musicians – including Daniel Foster ( WWS Alum, WWS Parent ), Joel Fuller ( WWS Parent ), and David Teie ( WWS Parent ) perform an excerpt from Dvořák's 9th Symphony, "From the New World" as part of #NSOatHome.
May 4, 2020
The High School Chamber Singers offer a remote collaboration of "Take Me Back Josephine" by Brandi Carlile
May 3, 2020
A COVID-19 related song "You Are Not Alone" by WWS Children's Garden teacher Alex Purdy and Donovan Duvall was featured on CBS Sunday Morning, set to photographs that Alex's mother has taken during social distancing in the DC area. See the full video on YouTube.
April 27, 2020
WWS family shares "Parent & Kid" yoga instructional video.
April 19, 2020
Nick Kendall (Class of '97) and Time for Three – who gave such an amazing concert for our 50th Anniversary – are sharing their talents as part of the #HumanityInConcert movement.
April 13, 2020
The Dimmer – Sieghart family (WiW, 3rd, 10th) created a beeswax stop motion animation to encourage smiles to go viral!
April 10, 2020
Some good 80's vibes with Brendan Finucane (Class of '00) covering Cyndi Lauper's "Time After Time".
Michael Kramer (Class of '07) was working on a musical journal during this unprecedented time. Here he plays "Amazing Grace."
(Video no longer available)
April 6, 2020
WWS Senior, Eve Hill, was spotlighted on NBC News for her work as an EMT at the Bethesda-Chevy Chase Rescue Squad. Watch our extended interview with Eve.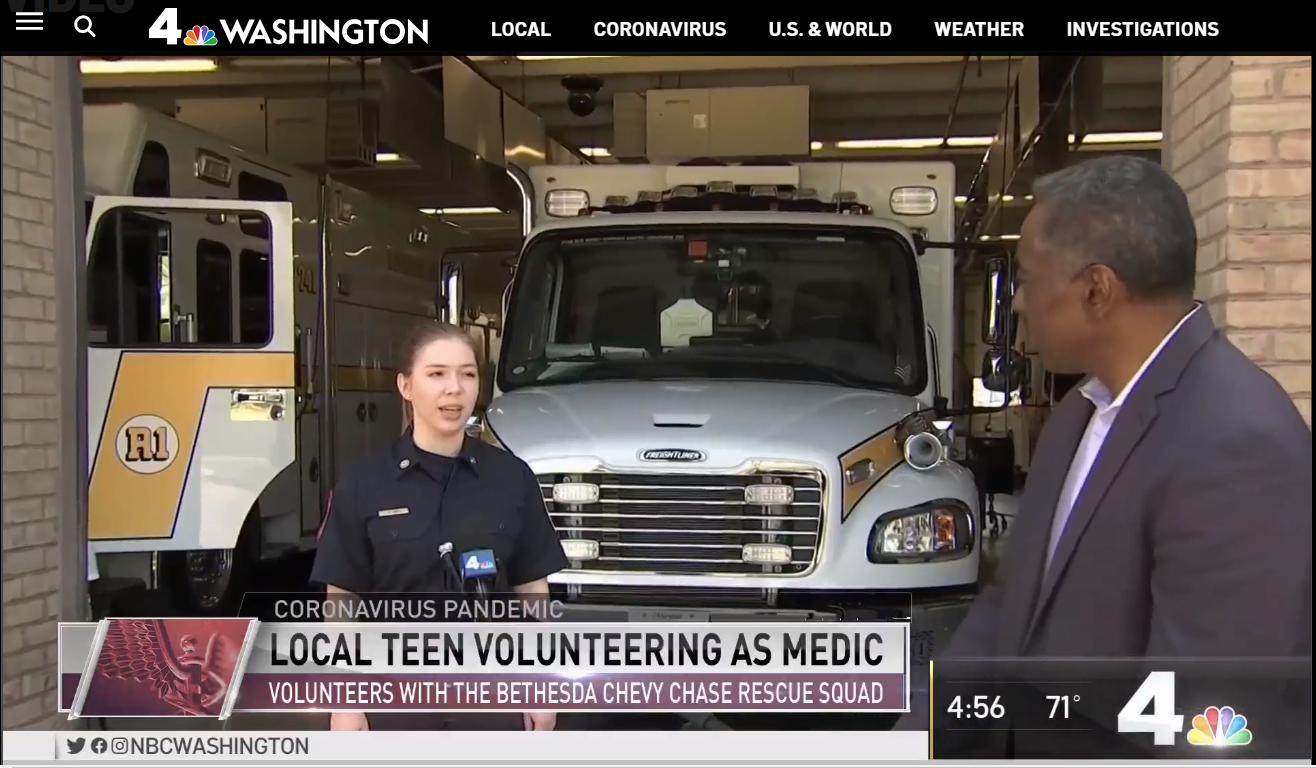 April 3, 2020
Within weeks of the COVID-19 lockdown, our community created over 400 masks for first responders and community members. A number of our community members were highlighted on the PBS News Hour.