School Renovation Project
Welcome to the Washington Waldorf School's Renovation Project site, where you will find photos of the summer of 2015 construction and the transformation of our school building.
Construction Schedule
April 6, 2015 – Preliminary interior construction work began
June 15, 2015 – Renovation construction work began
September 14, 2015 – Substantial completion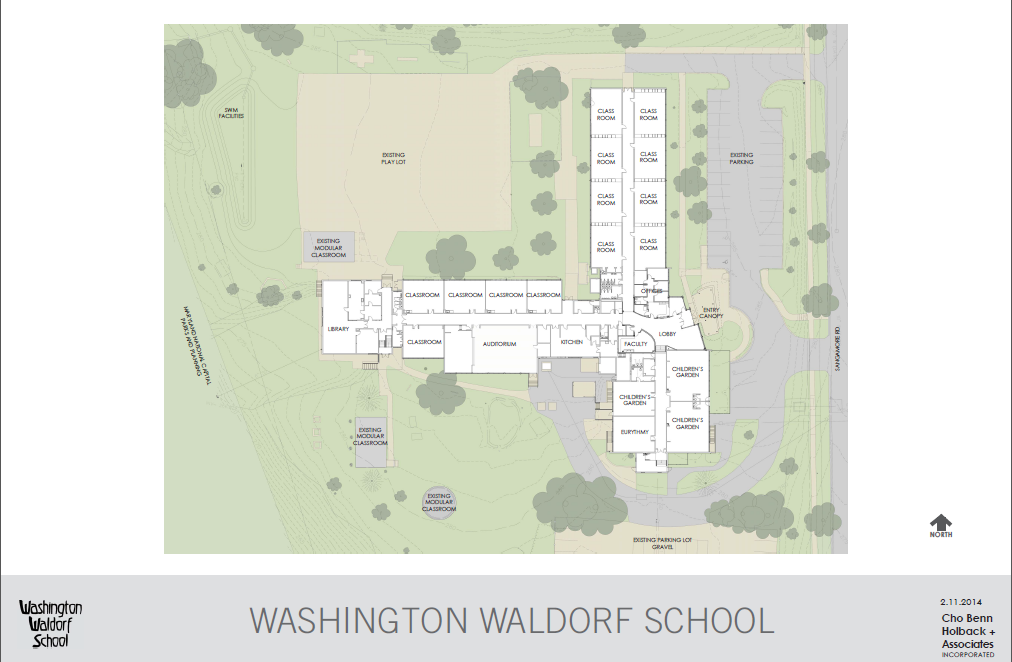 Construction Contract Signed
Harvey Cleary Construction Company Hired, Poised to Begin Work
On March 18, 2015, the Washington Waldorf School signed a contract with Harvey-Cleary construction to begin work on Phase I of the Sangamore Road campus. Harvey-Cleary, a construction contracting firm whose Washington, DC office was opened in 1986, will oversee the construction of WWS's planned infrastructure improvements, expansion of its front entry, and infrastructure for future development of a gym at the site.
"This is a moment of great importance in the history of the Washington Waldorf School," said Board Chair Allison Fultz. "Breaking ground to renew and improve our campus is a realization of a longstanding dream of the hundreds of volunteers and donors in our community who have brought us to this point — to whom we are deeply grateful. But beyond even this, it is a first step towards making our vision of a beautiful long-term, energy efficient home a reality. Raising the last $250,000 to complete the campaign for this first phase of vital improvements is a critical part of achieving our vision, and every gift counts!"
WWS's planned improvements will feature the installation of state-of-the-art, high-energy efficient heating and cooling system, well insulated and water-proof roofing, beautiful new insulated, double-pane windows, and important utility and life-safety systems upgrades. Students of all ages will benefit from these improvements which will provide for a healthy indoor environment: well-lit by natural light and is environmentally sound.
"It is exciting to think that by September 8, our first day of the 2015–2016 school year, our students will be learning, growing and building community in a weather-tight, energy efficient building," said Faculty Chair Jennifer Page. "We will continue to grow and improve our programs and look forward to showcasing our school to the Washington DC community in our 'new' home."
Phase I includes the renovation and expansion of the existing front entrance, installation of a new HVAC system, insulated roof, windows, lighting fixtures, ceiling tile, fire alarm system, fire suppression (sprinkler) system, and upgrade of all utilities. Full scale construction began June 12; our newly renovated building will be ready for the new school year when we open the doors again on September 15, 2015 to our students and families.
For further information, questions, or concerns, please contact:
At the Washington Waldorf School:
Caitlin MacKenzie, Project Coordinator
cmackenzie@washingtonwaldorf.org or 301-229-6107, ext. 127
Marta Schley, Neighborhood Liaison
mschley@washingtonwaldorf.org or 301-229-6107, ext. 116