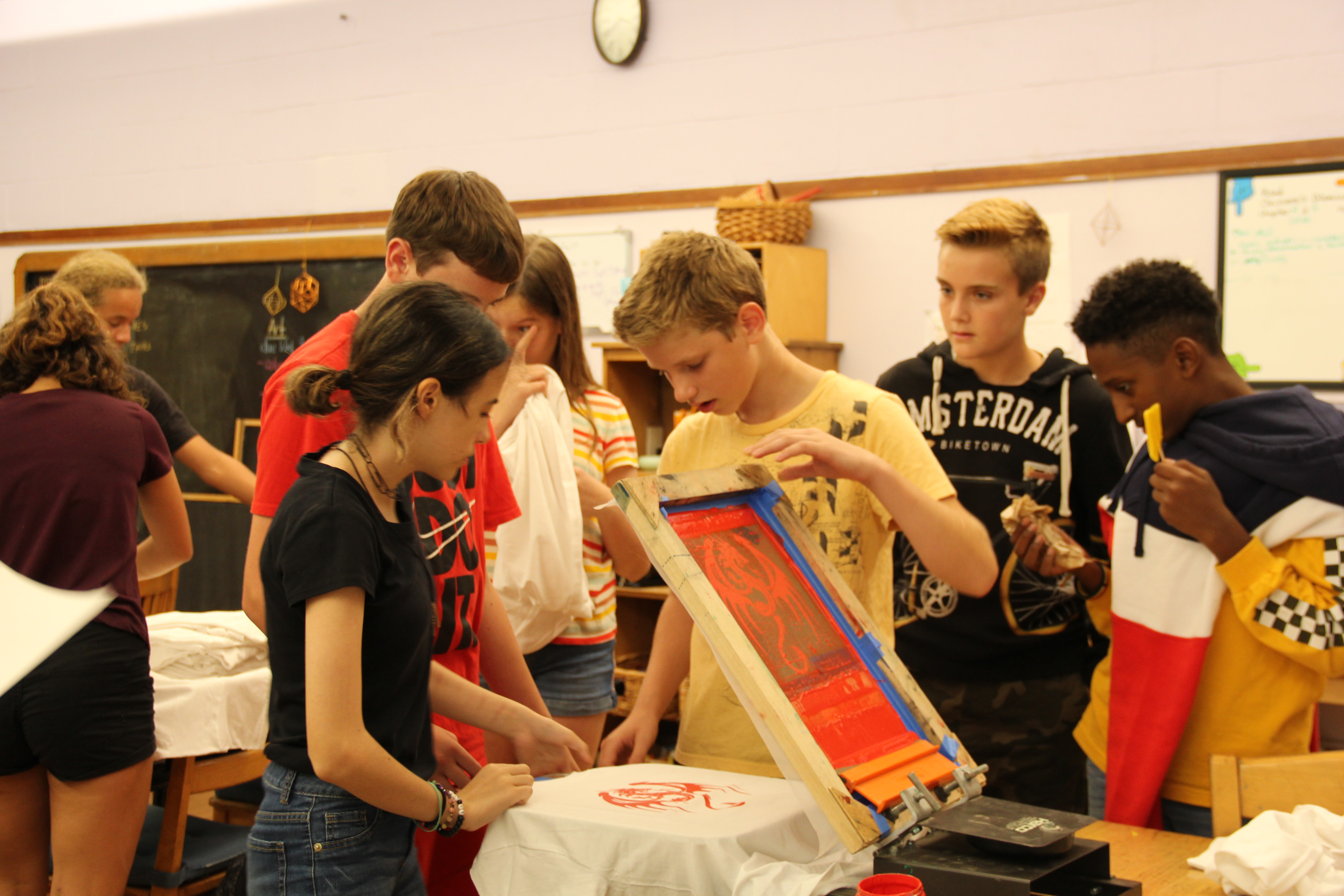 Note: Each class teacher approaches this general curriculum guide with the freedom to shift and cater it to the particular group of students he or she is teaching. 
Capital letters indicate main lessons, which are taught in 3–4 week blocks of daily double-period class sessions. In grades 6–8, mathematics and English studies are supplemented by skills classes meeting 2–3 times weekly.
History and Social Studies
AMERICAN AND OTHER REVOLUTIONS; 18th – 21st centuries; world geography; geography of Asia 
English
Biographical reports; grammar; literature; composition; vocabulary.
Mathematics
PLATONIC SOLIDS; algebra; equations; laws of exponents; polynomials; graphing; ratio and proportion; geometry; Pythagorean Theorem; 
Sciences
METEOROLOGY; HUMAN ANATOMY; ORGANIC CHEMISTRY; AERODYNAMICS AND HYDRAULICS 
Foreign Languages
Spanish or German.
Fine and Applied Arts
Printmaking; veil painting; color and black and white transformation; human figure; pastels; clay modeling 
Music and Performing Arts
CLASS PLAY; Grades 7 & 8 orchestra, flute ensemble, or guitar; Grades 7 & 8 Chorus
Handwork
Sewing machine projects
Woodwork 
Three-legged stools 
Eurythmy
forms; poetry; stories; musical compositions; rods
Movement 
Games; basketball; soccer; relays; balance and coordination exercises
Active and Outdoor Education
Combined Grades 7 and 8; rock climbing, canoeing, biking, kayaking, hiking, and ice skating; outdoor camping and wilderness skills including edible plants, fires, and shelter building, first aid, orienteering; cotillion and folk dancing
Technology
CyberCivics